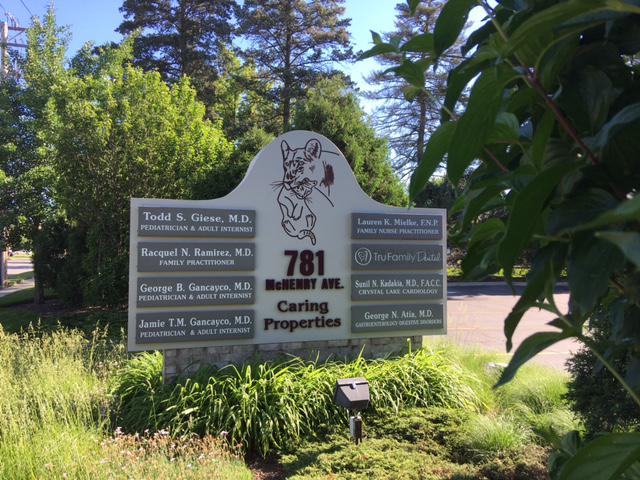 CARING FAMILY, S.C.
We welcome you as a patient and appreciate the opportunity to care for the whole family providing you with medical services. This information is designed to answer many of your questions. We also want you to know certain things about our policies and practice.
We are committed to caring for the whole family with the best of modern technology blended with good old-fashioned compassion. Our Christian faith supports us in our mission of healing by offering love, honesty, cooperation and respect to all who enter here.
Doctors
Todd Giese, MD was born and raised in Wheaton, Illinois. He got his biochemistry degree at the University of Illinois in Champaign-Urbana, and his medical degree at the University of Illinois in Chicago. He completed his training with a four-year residency in Adult internal Medicine and Pediatrics and continues with recertification exams on a periodic basis. He maintains a teaching position at the University of Illinois and is also on staff at Lurie Children's in Chicago. Several years he has been listed in the Castle Connolly book "Top Doctors- Chicago Metro Area" as well as Chicago Magazine "Top Doctors" [pediatrics 2004, 2006, & 2010 and adult internal medicine 2018].
Racquel Ramirez-Dolleton, MD was born in Manila in the Philippines and was raised in Chicago, Illinois. She got her biology degree at the University of Illinois in Chicago and her medical degree at Perpetual Help College of Medicine in the Philippines. She completed her residency in Family Practice at Swedish Covenant Hospital in Chicago. Dr. Ramirez became a diplomat of the American Board of Family Practice and continues to maintain her board-certification.
George Gancayco, MD grew up in Maryland. He got his Biology degree at Boston College then got his medical degree at Chicago Medical School. He then completed his training with a four-year residency in Adult Internal Medicine and Pediatrics at Loyola University Medical Center in Maywood, Illinois. He is a board certified pediatrician as well as adult internist. He is also a Fellow in the American Academy of Pediatrics.
Jamie Gancayco, MD grew up in Arlington Heights, Illinois. She received her Bachelor of Science in Nursing at the University of Michigan while doing her pre-med requirements. She then attended Loyola University Stritch School of Medicine and graduated in 1997 with her MD. She completed her 4-year residency in Internal Medicine and Pediatrics at Loyola University Medical Center. Dr. Gancayco is board certified in Internal Medicine and in Pediatrics. She is also a Fellow in the American Academy of Pediatrics.
Nurse Practitioner
Lauren Mielke, FNP-BC was born and raised in McHenry, Illinois. She received her Bachelors of Science in Nursing at Eastern Illinois University and Lakeview College of Nursing in Danville, Illinois in 2006. She has been a team lead/bedside nurse at local area hospitals for the past 11 years, and has a wide variety of nursing disciplines. She then attended Olivet Nazarene University in Oakbrook, Illinois where she received her Masters of Science in Nursing and became a Board Certified Family Nurse Practitioner in 2017. She lives in Crystal Lake with her two children. Lauren is passionate about the patients and families that she serves.
Services
As primary care providers, Drs. Gancayco, Ramirez and Giese and nurse practitioner Lauren Mielke serve as your first contact with the medical system. Most medical conditions can be treated here including hypertension, asthma, arthritis, high cholesterol, diabetes, heart problems, ear, nose, sinus, and throat problems, injuries including stitches, acne, removal of minor skin lesions, gynecological services (as annual PAP smears). For pediatrics: newborn care, growth and developmental assessments, rashes, immunization, school problems (as attention deficit disorder). Dr. Giese does not dispense birth control but can help couples with natural family planning in conjunction with a formal program elsewhere.
Managed Care
Many insurance programs now require an initial visit with your primary care physician prior to approval of any other medical services. Pre-approval of specialist's visits as well as any medical testing may be required by your insurance. Emergency services rarely need special authorization. Caring Family's staff is knowledgeable and devoted to maximizing your insurance benefit. Help us to help you better by contacting us prior to incurring any expenses.
Hospital Care
Crystal Lake has many hospitals surrounding it: Northwestern's Huntley, McHenry, Woodstock, Harvard, Advocate's Good Shepherd and Sherman. We no longer manage your inpatient care in person, changing with the times by working with dedicated hospitalists who will communicate with us the findings from your hospital stay. We have consulting privileges at Good Shepherd, McHenry, Sherman and Lurie's as well as teaching appointment with University of Illinois at Rockford which keeps us connected with the unique educational opportunities there.
We will need to see you in our office within a week of returning home from a hospital stay to discuss medication changes and any needed clinical strategies. If you are uncomfortable either with a medical student or a canine therapist assisting your visit with Dr. Giese, do let us know. For most it is a positive experience and instructive. Advocate Physician Partner site #331 is our designation since Obamacare encouraged all to have accountable care. This basically means a lot of other people are involved in what information we gather at your visit. But we are still free (not corporate) as you are free to not answer all such inquiries.
Laboratory
Quest Diagnostics picks up lab samples twice a day and results come back by computer in a day or so. Your insurance may put restrictions on other laboratory testing.
Results are reviewed by your doctors and are reported to you. Call if you don't hear back (or get a mailed result card or email or phone message) from us in a week.
Other Testing
Electrocardiograms, rapid glycohemoglobin (A1C) testing, lung spirometry, prothrombin testing (INR), rapid strep tests, rapid COVID tests, rapid prothrombin testing (INR), rapid strep tests, rapid mononucleosis tests, instant result urine drug testing, pregnancy tests, pulse oximetry and vision tests are done here at Caring Family. Remember that most insurance companies now require pre-authorization for any testing not done in your primary care physician's office.
Vaccinations
Vaccinations are also given here for routine purposes and foreign travel. Risks of shots are far less than the risk of disease or we would not be advocating them, and although discussion on each shot is welcome, we are an immunizing practice and ask those who do not wish to immunize their children on our standard schedule to seek care elsewhere.
Communication
Effective communication is vital to good health care. Help us to help you by writing down pertinent issues you wish to discuss at your medical visit. Have all necessary documents, both from the medical end (i.e.: prescriptions taken, shot records, abnormal test results), as well as from the business end (a current medical insurance card, both primary and secondary). Make sure to get all medication refills at your visit. Medications are not to be requested by phone, as you are expected back when refills are due.
Despite great technologic and scientific knowledge, medicine remains an art. A cure that worked 99 times may not work the 100th time. We need feedback from you when something isn't working (or if it works remarkably well!). Our Christian faith supports us in our mission of healing by offering love, honesty, cooperation and respect to all who enter here. Our staff deserve a similar respect from you. Their right to work in a safe environment means foul language and abusive or threatening behaviors will not be tolerated and may result in removal from this facility.
Parking
Caring Family uses both front and back entrances to make a more peaceful experience for you, we are still all one cohesive practice. Our apologies when you have to "go to the other entrance" (or drive around to find a parking spot).
After Hours
The office is keeping late hours four nights a week. We realize problems crop up that may seem urgent after the office has closed. Please be sure your call is based on the seriousness of your medical problem and not on convenience. The answering service triages some of the requests. Voice mail keeps our costs down for non-emergency calls. When you truly need to speak to a doctor, whichever doctor is receiving calls that week will be paged. Your call to a doctor after hours should be returned within 20 minutes. If you do not hear from them within that time, CALL BACK.
Practice hours
You may choose the provider of your choice, or just take the most convenient time. Please call ahead for an appointment.
Monday through Thursday 8-7:30
Friday 8-5pm
Saturday 9-1:30pm(after 11 is reserved for "sick-only")
Emergencies
For poison control, call 800 222-1222
For life-threatening emergencies CALL 911
Insurance companies typically give you till the next day to seek approval for a visit to the emergency room or urgent care for what you perceive to be life threatening. Even if a doctor or nurse is trying to talk you out of seeking emergency care, if you feel you need urgent help: GO TO THE EMERGENCY ROOM!
Most medical problems will be handled efficiently by the emergency room physician, sometimes requiring a phone call to your Caring Family provider, but more commonly with a written report sent to the Caring Family office and put in your medical file. We encourage you to call the next working day to give us a progress report and return for follow up as they recommended.
If for whatever reason, you are uneasy with the care you are receiving in any emergency room, wherever you are, please page one of us from that emergency room.
Appointments
We do our best to keep to our schedule. Help us by calling ahead if you will be late or unable to make a scheduled appointment. We generally can see sick patients the same day. We reserve slots for this purpose and don't "open" them till the morning, so you may be asked to call 1st thing in the morning to make your sick appointment. The first time slots of the day can generally accommodate sick 'walk-ins' without inconveniencing other patients, but at other times if you walk in you may be asked to return at a more available time. If your provider is running uncommonly late and another provider is available to see you more quickly we will offer you the opportunity to "doctor-hop" at the time of the visit.
Satisfaction
We aim to please all our patients. If you are very unhappy with your visit at the time of service, let us know as you check out, and we will arrange for another one of our providers to see you that day or at the earliest availability at no extra charge.
Fees and Payments
If your insurance requires a co pay with an office visit, we are required to collect that before the visit. By the agreement with your insurance company, we are expected to refuse to see you if you do not have your co pay at the time of the visit. Please know your insurance plan's coverage details so that we are not in the unhappy position of educating you about it.
We make every effort to be good stewards of your medical dollars. Help us reduce costs by promptly paying balances due us. Visa and MasterCard are accepted for payment. If you are experiencing financial hardships, contact the office manager to make a payment plan.
Educational Resources
We may be able to provide you with current educational materials. In addition, Dr. Giese and his wife provide whole food plant based nutrition talks along with food tastings in the fair-weather months. Most of our updated resources including class notes and recipes are posted to this website under the "Nutrition Classes" radio tab.